Swapping ports between existing script gateways
Last updated
Overview
Customer system and network changes that impact a Script gateway interface may require Script gateway port and label changes.
Resolution/Topic
1. Open the Script Gateway - Edit window
2. Disable the interface to be edited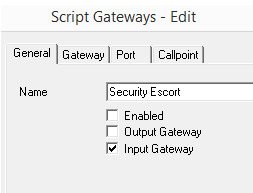 3. Go to the Port tab, then select to remove port and press the Save button
4. Go to the second Script Gateway item and repeat steps 1-3 above
5. Go back to the first Scirpt Gateway and in the General tab - Change the name label (if required)
6. Go to the port tab, and select Add
7. Select the port from the list and press the OK button
8. Press the Save button to commit the change.
9. Repeat steps 4-8 for the second interface.
Related Defects:
N/A
---
KB59785