Navigating Spok Knowledge
Last updated
Spok Knowledge includes several navigation tools to help you browse the site and find the most useful content.
General Organization
In general, Spok Knowledge is organized by product. Within each product, content is organized into categories. Common categories within a product include versions, release notes, and compatibility information. Within these categories, sub-categories organize collections of articles which contain detailed content.
Navigation
If you wish to navigate to content about a specific Spok product (rather than using Search), the Spok Products page is a great place to start:
This page is accessible via the homepage as well:
Breadcrumbs
Each page in Spok Knowledge includes breadcrumbs which show your current location in the information structure. You can click on the links in the breadcrumbs to navigate up to higher levels in the information structure.
Note: Breadcrumbs do not represent a history of the pages you've navigated to get to the current page, they only represent your current location.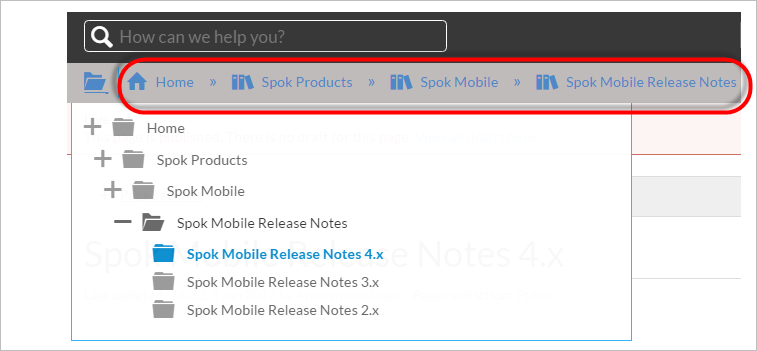 Navigation Widget
The navigation widget is available at the far left of the breadcrumbs bar. This tool can help you quickly find and jump to another location on the site:
Click the folder icon to open the widget.
Use the plus and minus signs to expand and collapse the structure.
Click on a category/sub-category to navigate to that page.